Epi, ability to pay willingness to pay model
Epidemiological, Ability to Pay and Willingness to Pay Model
STAGE !: SELECT THE COUNTRY TO BE INCLUDED IN THE CURRENT ANALYSIS
This applies to the Sheet in the Excel Model labelled 'Selection'
CHOOSE FROM 117 COUNTRIES OR ANY REGION OF CHINA
Global Demographics Ltd has the relevant demographic and household income and expenditure data for 117 countries.
The opening page of the model shows those countries purchased by the user – more can be added at any time after initial purchase of the model.
In this Example below 8 countries are shown, but there can be all 117 if required.
COUNTRY SELECTION
The user can select only one country at a time
The data relevant to that country is loaded into the model sheet and detailed analysis of the market in that country is done..
To look at another country at any time simply return to this page ("Selection") and select a different country.
AGE RANGE
As vaccines are frequently age related the user can specify the eligible range here. If everybody then set to 0-100 years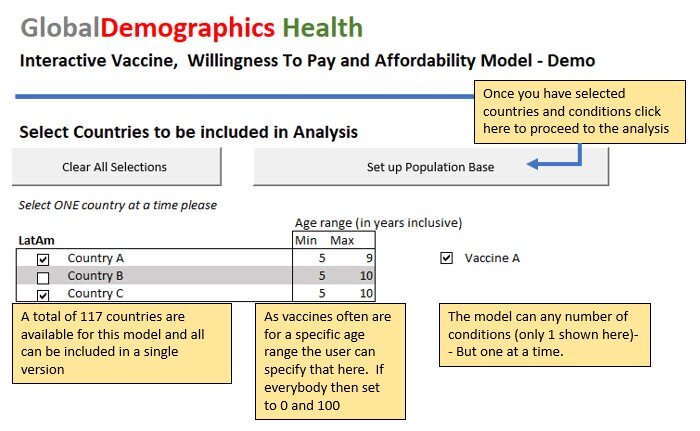 MULTIPLE CONDITIONS INCLUDED IN THE SAME MODEL
The model can be preloaded with the 'Epidemiological' and 'Willingness To Pay' data for multiple conditions.
However, for obvious reasons only one condition can be selected at a time for analysis.
CREATE MARKET PROFILE
The 'Set up Population Base' button loads the relevant data into the sheet labelled 'model' and switches to that. The user then progresses down that worksheet through different stages of the solution as described on the next web page
CLICK HERE TO GO TO THE NEXT PAGE OF THIS MANUAL
By 2045
The total population of China is projected to decline to 1.378 billion persons – down from 1.411 in 2020 (Census). This assumes the average birth rate per thousand women aged 15 to 49 increases from 44 (in 2019) to 50 in 2024 and then declines to 46 by 2045, reflecting trends in improved education and affluence.
Annual births in 2024 are expected to be 15.7 million and are projected to decline to 12.4 million by 2035 and 11.541 million by 2045.
For more information on births in China, see our Special report on this topic
Learn More